Gulf gave the gifts to the citizens in the streets of Tbilisi
August 13, 2015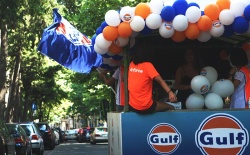 Oil Company Gulf offered different promotion to its customers and moved from the service stations into the streets of Tbilisi with the summer promotions.
Due to high temperature, the company offered cold water and energy drinks to the citizens at the bus stops, in the squares and other public areas. The brand bus of Gulf loaded with gifts traveled all over the city. The animators entertained the children in the streets.
It should be mentioned that Gulf offered a variety of promotions and gifts to its customers at service stations during the summer. In the nearest future the company is planning to provide other summer promotions to its customers.